Investing in Metaverse, in 2022-A Report for Venture Capitalists, PE Firms and Others
Published 2023

No of Pages: 120

20% Customization available
In 2021, the Metaverse industry attracted an investment of over $40 billion.
The possibilities of metaverse are unimaginable and it is no surprise when the world's largest social media company Meta (Facebook) invested $10 billion in the metaverse in the year 2021. As the company Facebook changed its name to Meta, the world could very well know that that is a big vision behind this. In 2021, investments in the metaverse industry is estimated to be around $50 billion and the figure will swell rapidly in the years to come. The metaverse market will grow at a yearly rate of over 50% compounded annually till the year 2030. This will create huge opportunities for venture capitalists, PE firms and metaverse industry participants.
Top Venture Capital Investments in Metaverse Industry
Top Private Equity Investors in Metaverse Industry
Staticker tracks the metaverse industry closely and is helping venture capitalists, private equity investors and market players understand the industry in a structured manner, plan their investments and grow as the industry grows.
Metaverse is the hottest investment opportunity
Metaverse is set to transform the way in which people socialize, interact, have fun and do much more in the coming decade. There is a lot happening in the gaming metaverse industry and Covid 19 has certainly acted as a fuel in the fire. The importance of socializing virtually is being felt like never before and gaming industry is eager to capitalize on this.
"Gaming metaverse industry is certainly very potential for PE firms and venture capitalists. However, identifying the right investment target is very important. Investors need to be clear on investment opportunities that exist in different parts of the value chain."

Investment Opportunities in Metaverse Industry and who will benefit??
With increasing focus on metaverse, a range of investment opportunities are arising in the entire value chain. Staticker tracks the metaverse industry and all the industry stakeholders and investment targets. Let us discuss a few of these:
Investing in AR & VR headset manufacturing companies: The world of metaverse can only be assessed by means of AR and VR headsets. Hence, the Metaverse AR & VR headsets market will grow at a phenomenal rate in years to come. The players operating in this segment are continuously innovating and upgrading their products and are also introducing new ones. Moreover, the industry is witnessing entry of new innovative startups with various offerings.

Magic Leap has launched a new VR headset targeting the metaverse application. The company has a valuation of around $2 billion and it raised $500 million in 2021.
Meta (Facebook) has plans to launch four virtual reality (VR) headsets by 2024. The company is intensively working towards its metaverse vision and will continue to invest heavily in related products and services in near future.
Investing in semiconductor companies that are targeting metaverse: Semiconductor components are going to be very critical in the metaverse transition. Hence, many semiconductor companies are going to benefit from this. Companies are actively looking to increase their investments in semiconductor products targeted to the metaverse industry. Metaverse semiconductor Chip market will offer attractive opportunities to the industry participants and investors.

Leading microchip company Qualcom has introduced a metaverse investment fund of $100 million which will be invested to support developers working in areas like XR-focused gaming, media and entertainment.
Similarly, other chipset manufacturing players line Nvidia and Advanced Micro Devices (AMD) are highly optimistic on the metaverse concept. This is due to the fact that highly advanced computing hardware.

3D Simulation and collaboration platforms will be very potential investments: In the value chain, simulation platforms will play a key role and will allow developers to develop metaverse products using their platform. For example, NVIDIA Omniverse is a very popular development platform for 3D simulation and design collaboration. In 2021, Nvidia announced expansion of its Omniverse platform in collaboration with Adobe that will bring in additional material editing features.
Metaverse and Immersive gaming companies: Leading gaming as well as toy companies are taking keen interest in metaverse concept. Metaverse immersive games are being developed that will allow people to interact and play games in the virtual world through avatars.

In 2022, Epic Games raised $2 billion from Sony Corporation and Kirkbi (owner of LEGO toys). The company is going to invest this in building metaverse based games.
The Sandbox Game has raised $358 million to build metaverse based games and strategically invest in this field. The Sandbox basically is a blockchain based gaming platform that allows users to secure copyright ownership for their user-created content through blockchain.

Other Innovative metaverse solutions: It is not just gaming, but there are many other customer facing metaverse experience solutions that are rapidly gaining attention and investments.

Exploring Digital is a United States based startup that has introduced the first VR theater that allows customers to enter the metaverse environment.
Investing in Metaverse
Metaverse is gaining traction in many industries. The industry is not just attracting investments from large gaming and social media companies but from players across different verticals. Many people think that metaverse just means various gaming and entertainment offerings that make use of virtual reality, AR & VR headsets. However, the actual scenario is totally different. While metaverse is gaining immense popularity in the gaming industry, there are many other verticals that are pumping money to capitalize on this opportunity.
Staticker identifies that top five sectors investing heavily metaverse are gaming industry, media & entertainment industry, apparel & fashion industry, ecommerce industry and healthcare industry.

Staticker is helping companies operating in different industries to understand the relevance of metaverse concept in relation to their business vertical, plan their metaverse strategy and work in a systematic manner. Staticker is also working with venture capitalists and private equity firms to identify metaverse investment strategies and capitalize upon this opportunity.

Top five sectors investing heavily in metaverse
Industries are realizing that metaverse is the next level of digital transformation which can revolutionize their working style and efficiency. This is just the start and we see investments in metaverse pouring from all the sides. Let us discuss the top five sectors investing heavily in metaverse in the present scenario: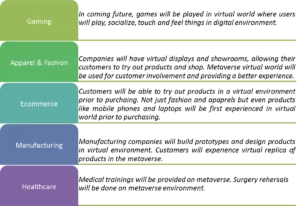 Gaming and entertainment industry: The gaming and entertainment industry is the largest market for metaverse in the present scenario. The metaverse games market is expected to grow at over 50% every year till 2030. Companies are developing metaverse games, innovative ways in which people can interact, play and have fun. Gaming, entertainment and social media industry invested around $XX billion in metaverse in the year 2021. Metaverse games industry is in a very initial phase and there are numerous ideas and concepts that companies are working on. Creating a virtual world where the users can enter through avatars, interact with each other, actually perform tasks and actually touch and feel objects is what metaverse concept is aimed to deliver. Top ten metaverse investors in gaming industry are Sony, Microsoft, Nintendo, Tencent, Activision Blizzard, Electronic Arts, Epic Games, Take-Two Interactive, Ubisoft, Bandai Namco. However, it is not just these big names but there are many startups emerging in metaverse games sector such as.
Apparel and fashion industry: Many top global apparel and fashion companies have started recognizing the metaverse technology and its importance in customer involvement and experience. In future, metaverse will allow customers to try out clothing, footwear and other products in a virtual environment. Moreover, companies will have their virtual stores and displays where they will visit and engage with brands. Apparel and fashion industry metaverse has a huge potential. There are many companies who are already experimenting and investing in their metaverse capabilities.
Ecommerce industry: In the ecommerce industry, a major challenge that customers face is they are not able to experience the product while buying. The metaverse virtual environment will allow customers to experience products in a better way in ecommerce stores. Amazon has already started working on this and has come up with AR shopping tool "Room Decorator". Using this tool customer can actually test how a furniture or room décor item looks in their space. Ecommerce metaverse market holds immense potential as the ecommerce industry has skyrocketed since Covid 19 and companies understand very well that the future of shopping is digital.
Healthcare industry: Healthcare industry is adopting digital transformation in many ways. AR and VR technologies are gaining traction which will pave way for metaverse in the healthcare industry. Metaverse in healthcare can revolutionize areas like medical training, education, examination and even surgery. Metaverse in Healthcare market has a huge potential. Startups like Veyond Metaverse, ImmersiveTouch, XR Health and many others are already offering metaverse solutions in the healthcare domain.
Manufacturing industry: In manufacturing industry, companies will use metaverse technology in product designing & testing, for creating prototypes and implementing smart manufacturing practices. Digital twin is a concept that has gained wide acceptance in the manufacturing industry and metaverse is going to play a key role in this. Metaverse in manufacturing is a concept that can take manufacturing automation to the next level.
Building & Construction industry: Metaverse in the building and construction industry will allow builders and architects to design their structures in the digital space. Metaverse will also allow companies to let their customers experience their homes and other properties in a digital environment prior to the completion. Metaverse in building & construction will help companies to build better prototypes, optimize collaboration and enhance customer experience.
Metaverse has Endless Possibilities
Apart from the above listed application areas, there are other possibilities that are being explored by market players and investors. Staticker interviewed companies who are working on digital innovation across various industries and here are some other emerging possibilities:
Automotive industry: Metaverse in automotive is a concept that can take manufacturing automation to the next level. In the coming years, automotive companies will design, display and even manufacture their products in metaverse environment. There are many industry giants who have already started doing this. For example, Acura, the division of carmaker Honda, has released the NFT of its upcoming car model Acura Integra which will be available to the first 500 customers.
Metaverse in aviation: The importance of metaverse is evident from the announcement made by Boeing that it will incorporate metaverse features in its design and product development process. Similarly, the company Airbus is experimenting ways in which metaverse can be used to enhance customer experience during their travel journey.
Metaverse in education industry: Covid 19 has brought in a trend of virtual learning. This is attracting investments in advanced education technology field. Immersive learning experience and metaverse are going to be the next big thing in the edutech industry. Startups like Invact Metaversity are taking this game to the new level where 3D immersive technology will revolutionize the education industry.
##Related tags: Investing in Metaverse, Metaverse investment report, Top sectors to invest in Metaverse, Metaverse investment report for Venture Capitalists, PE Firms